NFL playoff game could be the coldest ever played.
The Dallas Cowboys and Green Bay Packers played in what was dubbed "the Ice Bowl" in 1967 on the frozen tundra of Lambeau field. Green Bay won the coldest game ever played in the National Football League by a score of 21-17. Though it was not a Super Bowl the Ice Bowl will forever be remembered for the frigid conditions that were present that day. The game time temperature that day in 1967 was a bone chilling -15 degrees with a wind chill of -36. [custom_frame_center]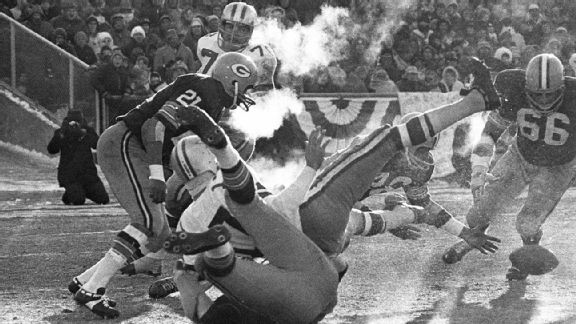 [/custom_frame_center]
Fast forward 47 years and we may be looking at "the Ice Bowl" part two as the Green Bay Packers and San Francisco 49rs are scheduled to meet in a playoff game today under similar if not worse weather conditions. Forecasts are calling for temperatures to drop into the -2 range with wind chills approaching the -15 degrees. The San Diego Chargers and Cincinnati Bengals will forever contend that they actually played in the coldest game ever in 1982 when you factor in the wind chill that was present that day of -59 degrees. Unfortunately, or fortunately depending on how you look at it the actual temperature that day only dropped to -8 degrees keeping "the Ice Bowl" in the record books but still earning this playoff game the title of "the Freezer Bowl". Of course if Green Bay and San Francisco do end up playing in record breaking cold this Sunday afternoon a new name will have to be bestowed on this winter battle. My suggestion..."the numb bowl"...paying homage to those crazy fans and poor hot dog vendors that will be attending today's game in Wisconsin. Either way, it should be another day to remember in National Football league playoff lore.
[custom_frame_center]
[/custom_frame_center]